I got my mind on Pinot and Pinot on my mind.  A few days down in Shell Beach tasting wines at the annual World of Pinot Noir are clearly to blame.  There were some thought-provoking seminars on Terroir and Natural Winemaking, and an excellent Burgundy class led by Allen Meadows (who selected a great lineup of eight wines from Volnay, Pommard, Vosne-Romanee, and Gevrey-Chambertin).
But what has been on my mind is this description on the back of one of the wines served at WOPN.
"Our 2008 [wine]…calls out in big voluptuous tones of dark, black fruit with a rich and velvety texture that redefines Pinot Noir."
Dark, black fruit with a rich, velvety texture? Doesn't sound like Pinot.  In fact, I did a search for those terms on Google, and the top results included tasting notes for Napa Valley Cabernet.
Call me a traditionalist, but I don't think anyone really needs to "redefine" Pinot.  I'm OK with the original definition.
OK, enough of my preaching.  Here's how to quench your thirst this week.
********************
Tues., Mar. 6:  Flour + Water Italian Wine Dinner (Mission)
Flour + Water
2401 Harrison
San Francisco, CA
Two seatings (5:45pm and 8:45pm) – $175 (inclusive of gratuity)
TICKETS
Farm Wine Imports' Kevin Clancy will be guiding you through Italian Wine 101, covering history, classic varietals, food & wine pairings, and natural wine producers.   All this, and a 5-course tasting menu from the talented F+W kitchen.
********************
Wed., Mar. 7:  David Hirsch Dinner  (Berkeley)
Meritage at Claremont
41 Tunnel Road
Berkeley, CA
6:30pm – $125 per person (tickets here)
Hirsch Vineyards Founder David Hirsch (a James Beard Award Semi-Finalist) planted Pinot and Chardonnay north of Jenner on the Sonoma Coast back in 1980, when few people thought this area was hospitable to vineyards.  He proved them wrong.  Join David for a dinner in Berkeley this week.  Here's the full menu:
Reception
2009 Chardonnay
First Course
Wild Mushroom "Cigars"
Black Truffle Mousse
2010 Bohan Dillon Pinot Noir
Second Course
Sonoma Duckling Meatballs
Sweet Potato & Freeze Dried Berry Powder
2009 Bohan Dillon Pinot Noir
Third Course
Cedar Planked Eden Farms Pork
Red Wine Braised Cabbage, Herbed Spaetzle
Mustard "Foam"
2009 San Andreas Pinot Noir
2007 San Andreas Pinot Noir
Fourth Course
Tcho Chocolate Coke Farms Beet Cake
Candied Beets & Raspberries
********************
Wed., Mar. 7:  Winemaker Dinner@ Delfina (Mission)
Delfina
3621 18th Street
San Francisco, CA
Dinner hours – make a reservation here
Delfina: Wednesday March, 7th
Lorenza Sebasti Pallanti of Castello di Ama will be joining the Delfina team for a feast in the Mission.  Per the invite, "All of the estate's wines will be available in various formats and Lorenza will be on hand to guide you through the vino and the food and to tell you about the magic that she and winemaker Marco Pallanti create. Menu items will include Papardelle in Pork Sugo, Bistecca Fiorentina (1 kilo porterhouse from the wood fired Webber), Ribollita and Rabbit – both 'da Delfina' – and many other favorites. Lorenza will also bring a precious bottle or two of their estate olive oil, which we will use to finish many of the night's offerings."
********************
Wed., Mar. 7:  Dom. Catherine et Pierre Breton / Dom. de la Cadette Tasting @ 18 Reasons (Mission)
18 Reasons
3674 18th Street
San Francisco, CA
7-9pm — $15 non members / $10 members
When I started venturing into Loire wines, I stumbled upon a bottle of Bourgeuil from Domaine Catherine et Pierre Breton.  I fell in love immediately.  I tried my hardest to visit Dom. Breton during my time out there last September, but couldn't quite squeeze it in.  Pierre Breton is touching down in SF this week, and I now have multiple opportunities to meet him in my hometown:  Wednesday at 18 Reasons, Thursday at Arlequin, and Friday at San Francisco Wine Trading Company.
And as an added bonus, Jean Montanet of Domaine de la Cadette will also be on hand.
********************
Thurs., Mar. 8:  Breton / Domain de la Cadette @ Arlequin (Hayes Valley)
Arlequin Wine Merchants
384 Hayes Street
San Francisco, CA
6:00pm – 8:00pm – $15
See above
********************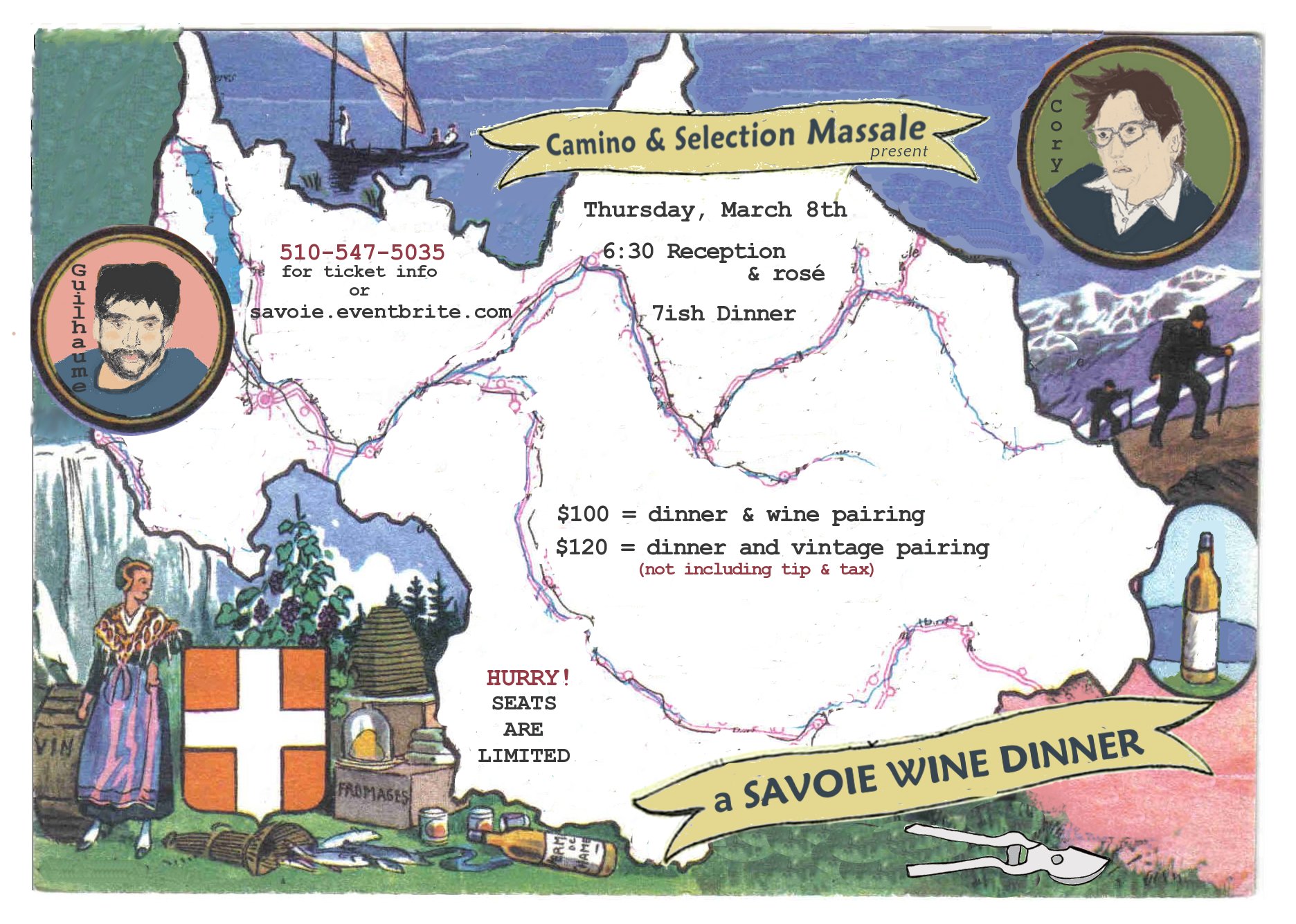 Thurs., Mar. 8:  Selection Massale Savoie Wine Dinner @ Camino (East Bay)
Camino
3917 Grand Avenue
Oakland, CA
6:30pm (reception) / 7:00pm (dinner) – $100 three-course dinner & wine pairing (extra $20 for vintage wine pairing)
I've sung the praises of the Selection Massale portfolio before, because I have a soft spot for wines with a lot of character.  Thursday, you get a chance to try wines from Selection Massale's Savoie producer Domaine Dupasquier, and get to meet Cory & Guillaume.
********************
Thurs., Mar. 8:  Clos Saron @ The Punchown (Oakland)
The Punchdown
2212 Broadway
Oakland, CA
5:30pm – 8:30pm – $15
Gideon Bienstock, winemaker at Clos Saron, will be in town to pour wines at Oakland's natural wine bar of choice — The Punchdown. Clos Saron makes about 100 cases of biodynamic wines from the Sierra Foothills each year, and Gideon's dedication to minimal intervention in the cellar make for some very unique wines.
********************
Sun., Mar. 11:  Fundraiser for Partners in Health @ DigWineSF (Portrero Hill)
DigWineSF
1005 Minnesota Street
San Francisco, CA
5:30pm – $50 (additional donations to Partners in Health are welcome)
DigWine is a dangerous place for me.  I walk in trying to buy one bottle, but invariably leave with multiple wines in tow.  There is just way too much temptation in this jewel box of a store.
Join DigWine and Farm Wine Imports for a fundraiser for Partners in Health, and a tribute to the late Joe Dressner.  Here are the wines being poured:
~ Casa Coste Piane Prosecco Valdobiaddene
~ Pépière 2010 Muscadet 'Clos des Briords'
~ Clos Roche Blanche 2010 Touraine Sauvignon
~ Terre Dorées 2010 Beaujolais 'L'Ancien'
~ Sanguineto 2009 Rosso di Montepulciano
~ Occhipinti 2008 Nero d'Avola 'Siccagno'
~ Texier 2009 Chateauneuf du Pape rouge